'I just wish I had been valued as much as I value OU': Brazilian students decry administration's response to COVID-19 travel ban | News
10 min read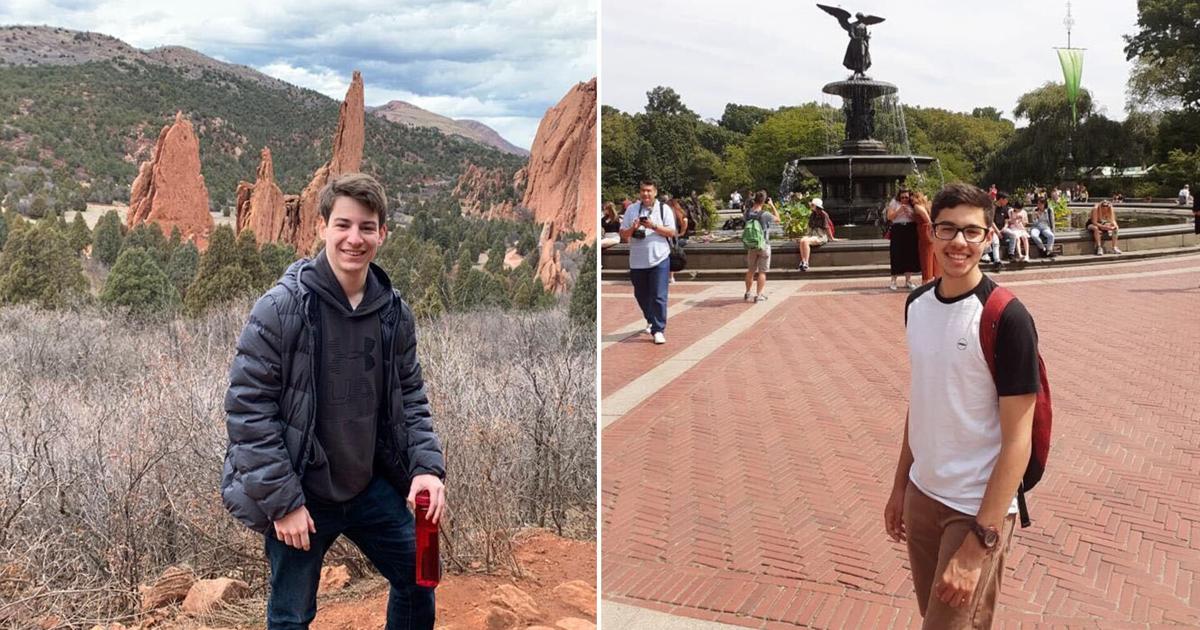 When Lucas Lages packed his bags to leave campus in March, he didn't imagine there would be a chance he would not have to pack them again to return. 
As an international student from Brazil, Lages was aware of the challenges he would face from studying and living in a different country, but never imagined he would have to prepare for the worst: The U.S. borders would not open for him to come back to campus to continue his education.  
As months went by and the COVID-19 pandemic evolved, President Donald Trump issued several travel restrictions on countries where coronavirus cases were increasing rapidly. Brazilian international students under the F-1 visa were not considered essential travel. 
While F-1 students from other countries were added to the U.S. essential travel list, Brazilian F-1 students were not. Thirteen OU Brazilian international students quarantined in a third country before attempting to enter the U.S., and eleven students stayed in Brazil taking online classes, according to the Brazilian Student Organization.
At the time of publication, Brazil has now recorded 4,915,289 COVID-19 cases and 146,375 deaths, while the U.S. accounts for 7,643,219 COVID-19 cases and 214,689 deaths, according to the CoronaTracker website.
Lages was one of the students who chose not to quarantine in another country and stayed in Brazil taking online classes. 
"The virus is worldwide. If I had a health problem outside my country, the costs, both financial and psychological, would be very high," Lages said. "It also involves the financial cost of staying in another country for 14 days, at a time when my country (Brazil) is experiencing financial instability and the currency is devalued. In addition to the insecurity of quarantining in another country, there was a high risk I would not enter the U.S." 
'I didn't feel supported by ISS'
Brazilian students complained about the lack of awareness of their situation at OU. Several said they believed if discussions had been initiated earlier between OU and International Student Services, some actions could have been taken so students and professors could be properly advised — such as the establishment of a support group, either technological or financial, and help from the Board of Regents to instruct professors on how to deal with banned international students.  
Bruno Esmeraldo is a biomedical engineering junior from Santa Catarina, Brazil,  who quarantined in Mexico for 14 days to enter the U.S. 
Esmeraldo said the last few months in Brazil were difficult amid so many uncertainties brought on by the ban, and the university showed a lack of encouragement and support toward the banned Brazilian students. 
"To be a hundred percent honest, I felt mistreated and excluded as a member of (the OU) community. While I know there were others in the same situation as (Brazilian students), I think we were amongst the most affected by (U.S. Immigration and Customs Enforcement)'s policy, given that we could not even come back to the U.S. because of the ban," Esmeraldo said. "I do understand the ISS oversees the entire international student body, but by 'placing us all under the same bag,' they dehumanize us and we become mere statistical data. This is not right. I know that OU and ISS had their hands tied, but at least recognizing there was a problem would have been great." 
Esmeraldo and other Brazilian students said they had to spend money on extra tickets because they lost the plane tickets that were already purchased for August. 
"The amount of money any (international students) shell out to return to the U.S. is considerable and should not be underestimated, and I hate that (OU) put up this show that 'everything is fine, there is nothing to worry about,'" Esmeraldo said. "I would not say there has been a neglect for the international community, just a lack of appreciation for our fight to basically get what we deserve."
Esmeraldo also said OU should have been more considerate towards Brazilian students who stayed in Brazil and continue to pay for university facilities they are not using. He suggested the establishment of some type of aid or the reduction of tuition fees.
Craig Hayes, director of international admissions and recruitment and United World Colleges Scholars Programs, closely monitored and assisted Brazilian students in the summer. Hayes said he and those who work closely with international students are aware of the challenges of Brazilian students, but he's not sure how widely this was known throughout the entire OU community. 
"It was a helpless feeling while working with our students in this situation, wishing there was something specifically I could do," Hayes said. "I felt at a loss in many ways."
The students also complained OU's Office of International Student Services did not send an email over the summer addressing the students' situation like it did when ICE's policies were released. 
Robyn Rojas, director of International Student Services, said although ISS did not release an email over the summer, an email was sent in March to alert students of the evolving situation of travel restrictions at that time. She said the uncertainty generated by the continuing change in travel restrictions caused ISS to receive confusing and contradictory information.
Natália Raymundi Pinheiro, an engineering physics and astronomy sophomore and an international student from Rio Grande do Sul, Brazil, said she felt less important than other international students at OU, and that ISS could have done a better job addressing the Brazilian students' situation.
"It is hard to say what should have been done because there is no right way to do it, but I think ISS should not have given up on international students as soon as the ICE policy was revoked, or when the borders were open to most students. I didn't feel supported by ISS," Raymundi Pinheiro said. "They didn't advise me even when the majority of my professors weren't making accommodations for my situation. In fact, it was as if (ISS) had forgotten Brazilian students also go to OU." 
In an online International Student Town Hall over the summer, the ISS staff gathered international students to answer questions and to discuss the latest concerns regarding the international community. 
Several international students from Brazil joined the meeting to ask how ISS could help them in terms of classes and not being able to be physically present at OU in the Fall. 
Guilherme Fonseca, international business and economics sophomore and president of BRASÔ and international student from Minas Gerais, Brazil, was one of the Brazilian students who attended the meeting. He said the only answer from ISS was that quarantining in a third country could be an option, but ultimately there was no guarantee students could enter. 
"It is stressful that they gave this answer to a person who is paying for the university, who chose OU among many others. They did not put (Brazilian) students as a priority," Fonseca said. "They did not exercise their function, which is to take care of students in the first place.
'At the mercy of opinions of government agencies'
Raymundi Pinheiro shared how the situation of banned Brazilian students was barely discussed by both the American and Brazilian governments. 
"While I believe there was no way to do the right thing for everybody in this situation, there were definitely better ways the governments could have addressed the situation: One, the U.S. government didn't even bother to put Brazilian students (on) the essential travel list. Two, the Brazilian government kept trying not to touch the subject, leaving us students alone against a whole country," Raymundi Pinheiro said. 
Esmeraldo said he had no choice but to quarantine in another country.
 "I could not stay behind and lose the investments of my new apartment or not attend in-person classes with prospects of finally doing hands-on research on campus," Esmeraldo said. "But I couldn't simply ignore the fact that going by myself out in the world just so that I could go back to study had many risks, including being infected by the same virus I spent the whole summer trying to avoid."
Rojas said for students from travel-restricted countries, staying in another country for 14 days prior their entry into the U.S. was and continues to be the university's only option. She said ISS always advises that entry into the U.S. is ultimately up to the Customs and Border Protection officers in airports, as they are the final gatekeepers.  
According to Rojas, CBP could turn anyone away if they think there is cause, even with a valid visa. She said that, although the ISS has heard of a few cases at other universities where students were able to overcome the travel restriction by laying over in a third country for 14 days, at the time of the summer town hall, ISS could not guarantee that would work for other students. 
"These travel restrictions are a perfect example of how ISS can often find itself in incredibly difficult situations trying to advise international students, when the students are ultimately at the mercy of opinions of government agencies and the individuals representing those agencies — factors that are beyond ISS control," Rojas said.
Hayes said the biggest challenge for him in trying to help those students was not knowing exactly what to do. 
"There was no clear-cut action outlined by the government that we could take where I knew it would have a positive impact," Hayes said. "We were left simply trying to do the best we could with the little we knew."  
During the summer, while helping to accommodate the Brazilian students who could not be physically present at OU with organizing their online classes, Hayes reached out to the new dean of the OU College of International Studies, Scott Fritzen, for a letter of support for Brazilian students who would quarantine in a third country and attempt crossing the U.S border. 
The letter reaffirmed the OU "hybrid" learning model and the importance of students being physically present on campus in the fall. The letter was directed to the immigration officer asking that they would enable students to have an "expeditious and smooth return" to the U.S.
Daniel Ferreira, a civil engineering freshman and international student from Brasília, Brazil, quarantined in Mexico for 14 days with his family before entering the U.S.
"I left Brazil about 20 days before my classes at OU started. I went to Mexico to quarantine, and stayed the amount of days required by the American government," Ferreira said. "In Mexico City, most people were quarantined, and there was almost no one on the streets. Most of the stores closed and nothing to do. This wasn't how I was planning my summer to go, but it was what needed to be done."
Fábio Santini Bianco, a mechanical engineering sophomore at OU, is an international student from Santa Catarina, Brazil, who also quarantined in Mexico for 14 days to try entering the U.S.
"I split an Airbnb with five other Brazilian friends, which turned out to be relatively cheap. Still, there were plane tickets, travel insurance, food and housing for 14 days in a foreign country. Despite preparations, there was still the chance we wouldn't enter the country," Bianco said. "Tension and uncertainty were constant throughout our stay. And the anxiousness of not knowing if our so-called plan would work wasn't comforting nor pleasant."
'I don't feel like I'm studying at OU'
Brazilian students who stayed in Brazil taking online classes had a much different experience than those of their Norman-based counterparts. 
Guilherme Fonseca was another Brazilian student who could not afford quarantining in a third country and stayed in Brazil taking online classes.
"It is very hard to be the same-level student you were when classes were in-person," Fonseca said. "In Brazil, we are in lockdown. So you start to think, 'I was not supposed to be here right now, I was supposed to be in the United States with my friends enjoying and studying, but everyone is stuck at home.'" 
Fonseca said he missed the life he'd built for himself at OU. 
"Much of my life is in Norman. I am in an organization and in a fraternity, I also have my job. There's so much I'm missing," Fonseca said. "I got used to my routine there, and now I am losing all of this to be locked up at home in a very stressful situation not only because of (COVID-19), but because of online classes, and not being able to go back to my university."
According to Lages, required learning platforms used in the U.S. do not work the same way for other countries due to technical limitations. He also shared he's always had serious concentration issues, and that being in a family environment triggers that even more. Lages said the online learning experience is lacking, and he does not feel supported by OU. 
"Taking only these online classes, I don't feel like I'm studying at OU. It's like any other school or course. I don't feel supported by the university," Lages said. "Teachers are completely free to conduct classes the way they want and often don't think about students who are not in the U.S.," Lages said. 
Fonseca said some students who stayed in Brazil taking online classes mentioned professors saying there was nothing they could do when Brazilian students reached out saying they could not acquire the materials needed for classes due to difficulties with finances and distance.
OU Brazilian international students claim that many are unaware Brazilian students are still banned from the U.S. They believe if there had been more awareness from the university, similar to when ICE's policies were released, their situation could have taken a turn.
"I think OU became very passive about everything that was going on. They lacked having a little more courage, wanting to fight for their students," Lages said. "On the other hand, I understand the world has never been in a situation like this in the past few decades. But I felt abandoned. I wish they had helped us more. How? I don't know. I just wish I had been valued as much as I value OU."